traveling to Morocco in
16 days tour to explore Moroccan cities including chefchaouen and sahara desert trip

let's explore Morocco in 16 days.
Imperial Cities & Sahara desert tour starting from Casablanca
Day 1 : Casablanca – Rabat
Our experts team give you an apportunity to discover the authentic Morocco. This tour begin at Mohamed V airport in Casablanca. We will visit the famous and the biggest Mosque in Africa, Hassan II, which was built between 1987 and 1993. This will be a golden opportunity to see the skilful work of Moroccan artisans, revealing the richness and beauty of their handicraft. After the visit, we will make our way to Rabat, the capital of Morocco. We will visit the Royal Gates built in 1864, and enjoy the charming garden of Challa, surrounded by walls and fantastic defensive gates, built between 1310 and 1330. Later we will stop at Mohamed V Museum built in 1972, and we will visit the tombs of Moroccan kings Mohammed V, who died in 1962, Hassan II who died in 1999, the tomb of Moulay Abdullah the uncle of Mohammed VI and Hassan Tower which was built in 12th century.
Day 2 : Rabat – Chefchaouen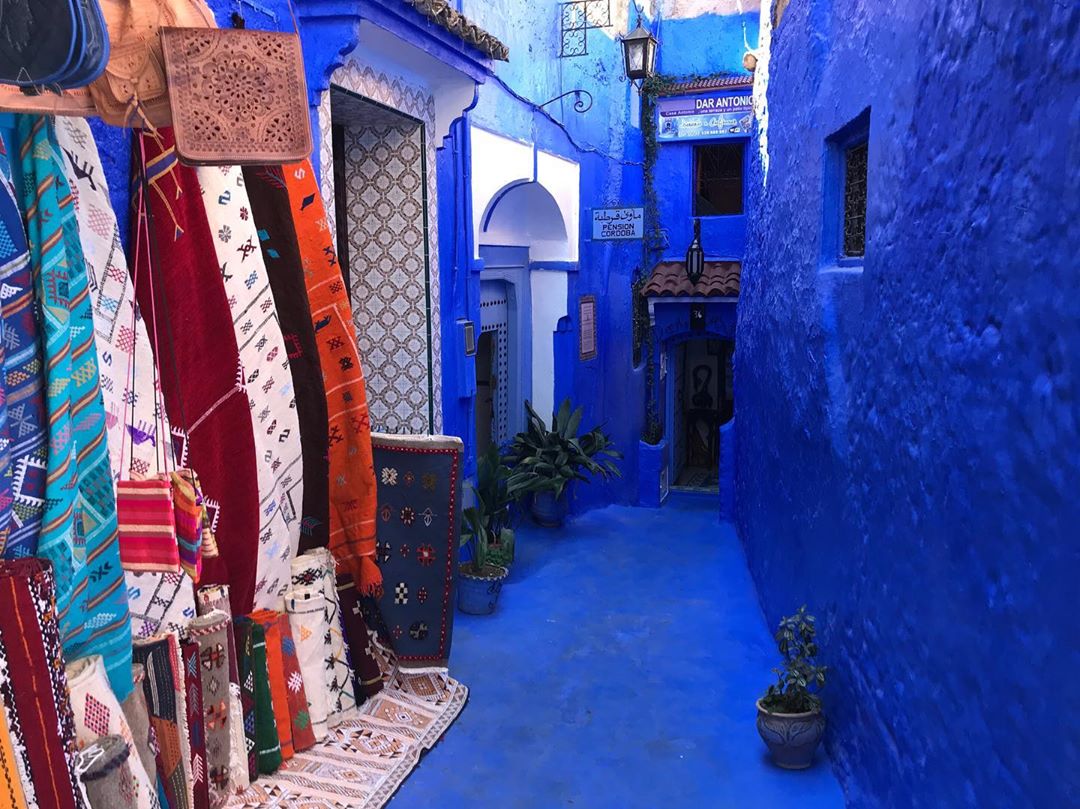 Chefchaouen ( The blue city )Before going to Chefchaouen we will explore Oudaya Kasbah which was built in 12th century and served as a military base for the Almorabits army in their defence against the Spanish army. The roof of the Kasbah allows a stunning view of the surrounding area. You will also get to see the 240 km long Abi-Regrag river, located in western Morocco between Rabat and Sala. Then we will take the way to Chafchaouen through the cities of Khnetra and Sidi Kasim, stopping in Ouazzane, passing by spectacular scenery with cedar, oak and almond trees.
Day 3 : Chefchaouen City guided tour
Chefchaouen is a spectacular city located between three mountains, the highest, called Chef, which means 'the head', is 2050 metres high, the second, called Cha, is 1800 metres high and the the third, Aouen, is 1600 metres high. In Berber language it is called Chefchaouen which translates as "Horns". Since 2010 it has been one of the UNESCO's preserved international monuments. The houses are blue and white, with narrow streets, which you will have +a chance to walk around.
Day 4 : Chefchaouen – Volubilis – Meknes
After breakfast we will depart at 9:00 am and journey northeast towards Meknes. We will have a stop for lunch close to Ouazzane before arriving at Volubilis, the largest Roman ruins in Morocco, loved by beautiful mosaics. This historical place will take you back to the Roman period. We will visit the mausoleum of Moulay driss Zerhoune, in the centre of Meknes, before taking our way to our hotel where we will spend night and have dinner.
Day 5 : Meknes – Fes
We will start our day with a visit to the granary at Sahrige Swani, which was used to store provisions for the army. We will also travel the royal palace and Moulay Ismail mausoleum. We will enter the medina via the largest gates, Bab Mansour, built in 1732, passing the square of Saht Lhdim (a smaller version of Jamaa el Fna square). Theen we will drive to Fes where we will spend the night with having dinner in a hotel.
Day 6 : Fes City Tour Guided
After breakfast we will visit the Royal Palace Gate (Seven Gates), where you will have a beautiful panoramic view of the medina, from the southern tower. We will then discover Fes' handicrafts and the art of pottery making, view marvelous mosaics and hear tales of times gone by. We will explore together the old Medina; walking through the small alleyways (more than nine thousand). It is a great opportunity to see the Koranic school of Elmadrasa Elboananiya or Madrasat Echaratine which make Fes the intellectual and cultural capital of the kingdom. A great way to discover Fes will be with a delicious dinner, enjoying local music and belly dancing.
Day 7 : Visit fes
A free day to discover Fes city by yourselves.
Day 8 : Fes – Ifran – Azrou – Medilte – Ziz Valley – Arfoud - Erg Chebbi Merzouga
Leaving Fes to desert Tours and Camel treks across the Atlas Mountains passing by Ifran, a famous European style ski resort and city. Then we will start our way to Azrou, where we will visit the forest of cedar trees, inhabited by Magot monkeys. We will keep our way on to Midelt, for lunch, where each June the festival of apples takes place. After lunch we will cross Ziz Valley, which is characterised by dates and palm trees. We will take a break at the famous dam of Hassan Eddakhil built during the French protectorate. We will have dinner and spend the night in a hotel.
Day 9 : Erg Chebbi - Merzouga – Khamlia – Rissani – Erg Chebbi Desert
After breakfast we will move on further into the Sahara desert and explore the charm of the dunes, taking our way to Khamlia to see Gnaoua and enjoy the Gnaoua music. We will stop for lunch and take a camel ride to enjoy the sunset over the big dunes. The night will be spent in the middle of Sahara desert sleeping in a nomad tent.
Day 10 : Erg Chebbi – Arfoud – Todra Gorge – Dades Gorge
We will get up early to see the sunrise before returning to the hotel for breakfast. After that we will keep our way on passing by a traditional system of underground irrigation in the south east of Morocco known as Elkhatarat. We will have lunch in either Touroug or Tinjdad and get to see the now dormant anti Atlas volcanoes. We will visit Toudgha Gorge where we will enjoy a short walk between the cliffs before heading to Dades Gorge, where we will spend the night and have dinner.
Day 11 : Dades Gorge – (off road 15 km) Rose Valley – Skoura – Ouarzazate
In the morning we will head to the Valley of 1000 Kasbahs, passings by green fields, fig, walnut, almond and pomegranate trees, and go on to the colorful Rose Valley, famous for its rose water which is used for beauty. The locals celebrate the Rose Festival here each year. The Damaskin rose was brought to this area by Berbers on their coming back from pilgrimage. We will take a stop at Amridil Kasbah, built in the 17th Century, before crossing the palmeraie of Skoura, reaching to Ouarzazate, where we will will spend the night in a hotel with dinner.
Day 12 : Ouarzazate – Marrakech
Ouarzazate is a lovely city located in the south east of Morocco, known as the Hollywood of Africa. We will take a break here for a while before continuing to Ait benhaddou kasbah, where we will explore the famous Kasbah preserved by UNESCO as a World Heritage Site since 1987. The films 'Gladiator' and 'Lawrence of Arabia' were producted here. We will take a forty minute walk around the village, before continuing our journey across the gorgeous Ounila Valley to arrive Telouat Kasbah. Afterwards we will continue our way across the amazing High Atlas (Tizi-n-Tichka, 2260 metres high), to the red city Marrakech.
Day 13 : Marrakech Full day City Tour Medina
You will be with a local guide who will be your comrade around this wonderful city, visiting historical monuments like the gorgeous Bahia palace, which was built in 19th century, the 17th century Saadian tombs, the Koranic School of Ben Youssef, and the Koutoubia mosque built in 12th century. You will also visit the famous Souks, a great place for shopping where you can buy presents for your family, friends or yourselves. You will have free time to enjoy a mint tea or coffee in one of the restaurants or cafes where you can get a stunning panoramic views of Jamaa El Fna square.
Day 14 : Marrakech you will enjoy Hammam
A free day to tour Marrakech by yourselves. Visit the new city of Gueliz, treat yourself to a Hammam and spa, or visit the beautiful Majorelle Gardens built by the French artist Jacques Majorelle, and Menara Gardens built in 12th century.
Day 15 : Marrakesh – Essaouira
A day tour from Marrakesh to Essaouira, which is also known as Mogador, is a small city on the Atlantic coast. you will discover the old Medina, visit the port and the handicraft and jewelry quarter. Essaouira is a beautiful place to visit, one of UNESCOs World Heritage sites, 170 km from Marrakech. It is located on the Atlantic coast, and is known for the Gnaoua festival that takes place every year, for three days during the first week of June. There are almostly 500 Berber families living in Essaouira now. During the 15th century, Essaouira was occupied by the Portuguese, who established trading here. Essaouira is a wonderful place where you can enjoy walking along the beach, and exploring the old Medina. With visits to the port, handicrafts, Moroccan Jewelers and the market this is a great place to buy souvenirs. For lovely panoramic views then Skalla, close to the sea, is the place to be. Enjoy a delicious fish lunch in a local restaurant.
Day 16 : Essaouira – Marrakech or Casablanca
Transfer to Marrakech airport or Casablanca airport.